10th Planet Detroit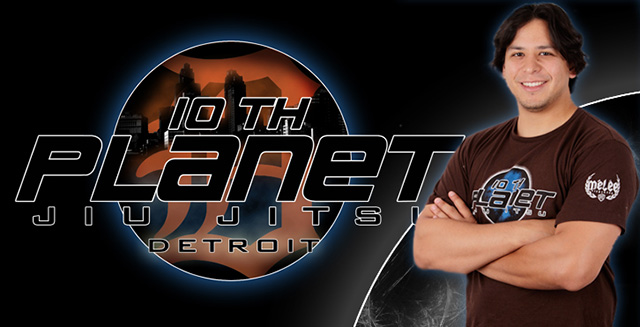 10th Planet Detroit
Located at: Martial Arts Unlimited
1060 W 14 Mile Rd
Clawson, MI 48017
10thPlanetDetroit@gmail.com
adlaijr@gmail.com
Cell: (734)718-2650
Gym: (248)435-4030
Personal Biography
Adlai Cleveland is a lifelong martial artist with over twenty years of experience. He began training in the martial arts at the age of 9 and has continued training in a multitude of different arts for two decades. Adlai is an active competitor with multiple gold medals in both gi & no-gi competitions and is currently undefeated in MMA with an amateur record of 2-0.
Current ranks:
10th Planet JJ – Brown Belt
Rigan Machado JJ – Brown Belt
Combat Submission Wrestling – Coach 1
Muay Thai – TBA Apprentice Instructor
Savate – Red Glove & Initiator
Tae Kwon Do – 2nd Degree Black Belt
Wing Chun – Black Sash
Iaido – 2nd Degree Black Belt
Shinkendo – Kenshuin
School Biography
10th Planet Detroit is located at Martial Arts Unlimited in Clawson, MI. Aside from 10th Planet Jiu Jitsu, Martial Arts Unlimited offers classes in Muay Thai, Savate, CSW, Gi Jiu Jitsu, Kali, Silat, Gung Fu, and Tae Kwon Do. Whether you are interested in self-defense, competing in mixed martial arts or other high level competitions, simply want to get in shape, or be part of an exciting and educational new hobby, our facility has a program to fit your needs.