10th Planet San Francisco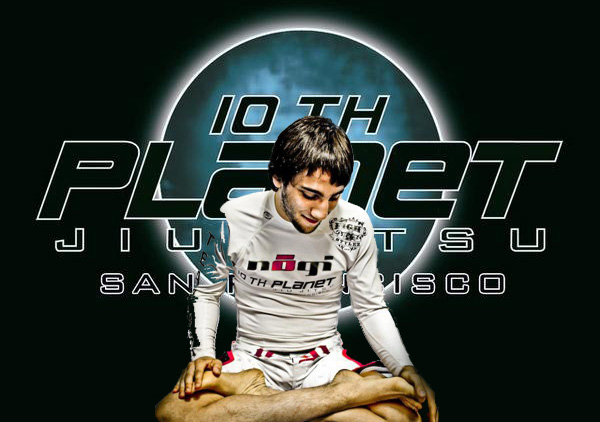 10th Planet Jiu Jitsu San Francisco's goal is to teach Jiu Jitsu in a positive learning environment for personal growth, fun, competition, self- defense, and fitness. Whether you're a world class competitor or a recreational Jiu Jitsu student this school is for you.
Address
333 Valencia St, Suite 100 @14th st
San Francisco, CA 94103
Phone: 650-784-1839
http://www.10thplanetjiujitsusf.com/
Instructor's Bio – Denny Prokopos
Born and raised in San Francisco, Denny Prokopos has been teaching Jiu Jitsu since the age of fifteen and has coached successful fighters such as Frank Shamrock. Denny began his Jiu Jitsu training in February, 2001 with the Gracie's and also wrestled for two-and-a-half seasons in High School. In 2004 he began training under the tutelage of Eddie Bravo and today is regarded as one of his top student.
Prokopos has trained with some of the biggest names in the sport such as Eddie Bravo, Jake Shields, Gilbert Melendez, Nate Diaz, Daren Uyenoyama, Randy Couture etc. "Jiu Jitsu is my passion", states Denny. "I'm always looking for new and interesting ways to improve my skills." Regarding his personal philosophy, Prokopos had the following comments: "I'm passionate about teaching Jiu Jitsu because I genuinely believe it helps people in myriad ways and I love hard training and being positive because it fosters a healthy learning environment."
Career Highlights
2009: 1st Place Naga Arnold Grappling Championships.
2008: 3rd place Grappler Quest
2007:
No Gi Jiu-jitsu World Championships (Mundials) – 1st place 162lbs brown belt category
USA Grappling open – 3rd place 70 Kg/154 Lbs
Qualifier For United States World Team Trials Submission Grappling at 70 Kg/154 Lbs.
Norcal Tournament Of Hero's (advanced division)
1st place Best Of The West (advanced division)
2nd place U.S. National Championships Presented by Grapplers Quest (advanced division)
2nd Place California State Pankration Championships (advanced division) – 1st Place
2006:
California State Championships (advanced division) 3rd Place
2004: Pan Am – Bronze Medal Tournament by the Sea – 1st Place
US Open – 2nd Place
US Open – 2nd Place (open weight class)
2003:
Jiu-Jitsu National Championships – 1st Place
Paragon Championships – 2nd Place Submission
Grappling Pan Am (advanced division) – 1st Place
2002:
California State Championships – 2nd Place
United Gracie – 3rd Place
2001: United Gracie – 1st Place