10th Planet Newton, NJ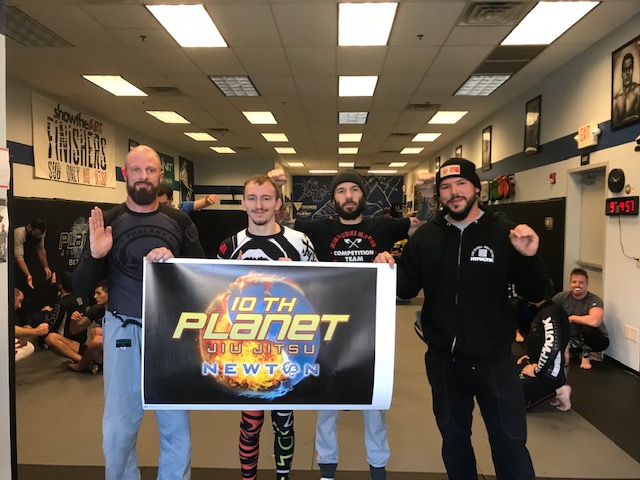 Jason Milley and Jason Ramos have a friendship that developed into a common goal – sharing their love of martial arts with members of the Sussex county community.  In August of 2014, they opened Martial Way MMA that transformed into a 10th Planet School this past March. At that ceremony they received their 10th Planet Jiu Jitsu purple belts under JM Holland and Zach Maslany.   Over the nearly five years running the school, Milley and Ramos have balanced full-time jobs while teaching classes at the school every day of the week.  
Milley, a lifelong martial artist wrestled for eight years before training under Larry Hill in 1989 at the New Jersey Karate Association (NJKA).  At thirteen years old, Hill recognized the potential and dedication in Milley and after two years of training, Hill instructed Milley pro bono and believed Milley would pay with his blood, sweat, and tears.  He encouraged Milley to train in as many disciplines as possible. Milley heeded his mentor's advice and in 1995 he achieved his first black belt under Hill in record time. Then, in 2005 he earned a black belt in Japanese Jiu Jitsu under Michael De Pasquale.  Later, under Hill's mentoring he received an eighth degree black belt in Karate, he was a Judo Champion, undefeated professional kickboxer, and in 2013 Milley earned a 5th degree black belt blend in karate, kickboxing, and Judo.
Milley was a teacher long before he co-owned 10th Planet.  While a student at Wallkill High School he taught self-defense to his peers.  From 1998 to 2001 he was in the Army Infantry; Milley admits, "Training in MMA made a huge difference physically and mentally and gave me an advantage over others in the military".  He shared his knowledge with his fellow soldiers by teaching hand-to-hand combat in the 1st Battalion 8th Infantry Regiment in the 4th Infantry Division.
Milley's business partner, Jason Ramos also enjoyed contact sports before training in martial arts.  He played football for six years and after high school he began training in boxing for nearly three years.  Ramos said, "After watching a UFC Fight between Chuck Lidell and Tito Ortiz in 2004, my friend called me out and doubted I would be successful in MMA.  I trained hard and proved him wrong". Around the time of that UFC fight, Ramos happened to meet Milley.
At twenty-one years old Ramos began training under Milley in Japanese Jiu Jitsu, kickboxing, judo, and karate.  Incredibly he earned a black belt that blends all of those unique arts. Ramos really enjoyed competing in MMA but had to stop because of an eye injury.  Then in his early thirties Ramos started training in Kung Fu, Chinese Chin Na and Thai Chi, and earned a blue sash in Wing Chun.
In 2006 Ramos first started competing in Jiu Jitsu, but has experience also competing in, Jiu Jitsu, and kickboxing. Ramos' twelve-year-old daughter, Lillian and his six year old son, JJ both train and compete in Jiu Jitsu.
Their most accomplished student is seventeen-year-old Randi Mae Miley who started training the day Martial Way MMA opened in August of 2014.  She has competed in Superfights, Show the Art Finishers, Radius Invitationals, Kasai Pro, and Samb0. Randi Mae is a blue belt under 10th Planet Jiu Jitsu, a blue belt under NJKA, and a blue belt in Japanese Jiu Jitsu. She recently finished second in the NJ State Wrestling Championship after participating in the sport for only one season.
At Martial Way MMA 10th Planet Newton School, Milley and Ramos offer children's MMA classes, women's, fundamental jiu jitsu, MMA Striking/kickboxing, Japanese Jiu Jitsu/Judo and advanced classes.
Milley and Ramos want to provide kids and adults not just with a skill to help them succeed in MMA, but with tools they can use in real life experiences.  Within five years the 10th Planet Newton co-owners hope to have careers as full-time martial artists who have high level Jiu Jitsu fighters trained under them in a larger facility, and ultimately be an essential 10th Planet school in Sussex county.
10th Planet Jiu Jitsu Newton
274 Spring St.
Newton, NJ 07860
email: 10pjjnewton@gmail.com
Co-owners:
Jason Milley (862) 258-8528
Jason Ramos (973) 600-3569