10th Planet Melbourne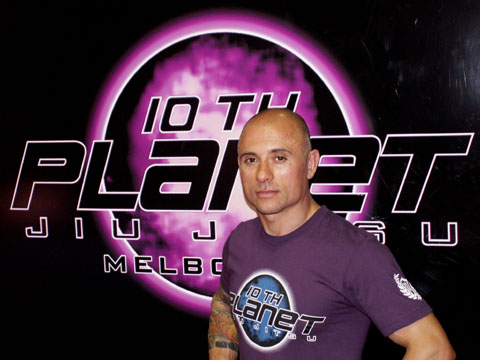 10th Planet Melbourne
Frank Barca has trained every year at 10th Planet Jiu-jitsu Hollywood, since 2006, coming in contact with many MMA Legends and many other elite MMA fighters in Hollywood at one of the most sought after training facilities, Legends Gym.
He is the first Australian to embrace these submission strategies whole-heartedly (has devoted himself to the system over the last 4 years), and is teaching this unique style of submission grappling for the first time in this country.
It started in 2006 for Barca as he embarked on a journey to Hollywood to see for himself what the fuss was all about. He chased down the founder of 10th Planet Jiu Jitsu, Eddie Bravo, and found something truly unique and very effective. So effective in fact, that he returned to LA many more times in the subsequent 3 years. Frank is not only a regular on the 10th Planet JJ mat under Eddie Bravo's direct guidance, but was also awarded 10th Planet Jiu Jitsu Affiliation by Eddie Bravo personally during his 3rd trip to LA in October 2008.
The Affiliation is based on mastering 75% of the 10th Planet Jiu Jitsu system, minimum of 4 years in grappling (Frank has been working on his ground game for 6 years) and proven mat sparring application of the world famous 10th Planet JJ system. By becoming an affiliate at that time, Frank Barca became the first person outside of America and North America licensed to teach authentic 10th Planet Rubber guard, Twister and Half-guard attacks as well as the many other attacks specific to 10th Planet JJ.
Frank has been Eddie Bravo's 1st generation student since 2006, and in November 2009, Frank was awarded his Purple belt by Eddie Bravo. Frank has been traveling extensively teaching 10th Planet JJ seminars in many states around Australia and has been taking the game off shore. All of which have continued to be well received. Not only the grappling fraternity, but also proven to be extremely popular among MMA community.
This has provided Frank with many eager students not only in Melbourne, but also in Queensland, South Australia, Tasmania and now in Sydney. The appeal continues to spread into new areas of the country, as the uniqueness of the 10th Planet JJ system continues to take the nation by storm
Spending countless hours on the mat with Eddie's top black and brown belts (Denny '300' Prokopos, Sean Bollinger, Scott Epstein, Alder Hampel, Conor Huen, Alex Alessandro, Tim Antolin, Erwann Marshal, Edwin (Mr Prison Guard), Brent Little, Alder Hampel, Rhasaan Orange, Nathan Drona, Joe Rogan, Johnny Blalock etc) has provided Frank with a valuable insight into the world of MMA styled Jiu Jitsu. Frank regularly is in contact with them making for certain, that quality stays in check, updating the evolution taking place weekly in Hollywood where Master Eddie teaches daily.
At any given time the 10th Planet training area is filled with professional MMA fighters searching for an edge in their game. Chuck Liddell has taken to the style so much that he has taken 10th Planet Brown belt Scott Epstein to be his Jiu Jitsu coach on the 11th Ultimate fighter season, and we all saw how slick George Sotiropolous looked on the ground at UFC 110 and also the amazing, Hippy Matt Horwich and Dan 'the outlaw' Hardy.
The 10th Planet JJ system is ready made for MMA as it does not rely on the handles that gi grappling rely on for controlling an opponent. It is completely reliant upon the fighter's grasp of grips; under-hooks, over-hooks and head control.
Entangling the opponent with the use of various grips (whether it be the use of your arms and hands to squeeze and control the opponent, or attacking the opponent with body locks and body entanglements via the use of the legs), are all commonplace and specific to no gi style events or in MMA events such as the UFC. The 10th Planet Jiu Jitsu system has its own uniqueness to these principles.
There is only one place is Australia where the 10th Planet Jiu Jitsu system can be learned: Frank Barca opened 10th planet JJ Melbourne officially on the 1st December 2008, delivering the 10th Planet Jiu Jitsu system daily so that all can benefit from Eddie Bravo's unique approach to no gi grappling.
The rapid improvement that a student shows within 3 months training in the 10th Planet JJ system is staggering! When a student applies his or her time to developing the necessary skills in it, then the skills develop super fast. In no gi/MMA competition, developing quickly and efficiently is a necessity.
If it's no gi grappling you want to train in, then 10th Planet JJ Melbourne is THE academy for learning no gi submission grappling for no gi competition. Frank's mixed martial arts classes automatically integrate the 10th Planet JJ system within it creating a unique and very dangerous, offensive game for those unaware of its venom or its potential. Joe Rogan describes the effectiveness of 10th Planet JJ best. "If you are not familiar with the 10th Planet system, and you roll with a 10th Planet fighter…. you're f#$%.."
Frank teaches daily, delivering seminars, private lessons and regular classes from his two academies in the Northern suburbs of Victoria, Coburg ( Precision Martial Arts Academy) and Tullamarine (Joe Reigo Fitness).
For more information about training with frank Barca or hosting a seminar in your school, please visit: www.10thplanetjjmelbourne.com or call 0403 48 222 8 for more details, or email Frank Barca at frank@10thplanetjjmelbourne.com
Address
190B Sussex St
Coburg North Melbourne, Victoria
Australia
http://www.10thplanetjjmelbourne.com
Phone: 0403 48 222 8