10th Planet Round Rock, TX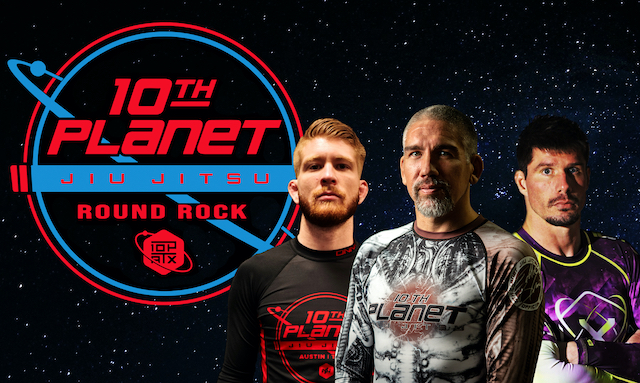 Manny Chavez
10th Planet Round Rock Head Coach Manny Chavez is a 10th Planet Brown Belt under Curtis Hembroff. Manny was born in California, and raised between Los Angeles, Puerto Rico, and Mexico. Manny started his jiu jitsu journey training under Orlando Sanchez at Gracie Barra in Pasadena, California before transferring to 10th Planet Headquarters in Los Angeles and becoming a Purple Belt under Master Eddie Bravo. He then moved to Texas with his wife and two sons in 2018, where he joined and helped coach the 10th Planet Austin team. After receiving his Brown Belt, Manny, under the guidance and support of Gabe Tuttle and Kyle Boehm, became the new Head Coach and General Manager of the newly opened location in North Austin, 10th Planet Round Rock.
Gabe Tuttle
Gabe is a black belt under Richie "Boogeyman" Martinez and is the new head coach of 10th Planet Austin. Born and raised in San Diego, Gabe did not take part in any competitive athletics until he found jiu jitsu through being a fan of mixed martial arts. He started training regularly in 2014 at a local school in San Diego before finding the Boogeyman when 10th Planet San Diego opened in 2015. Gabe was promoted to blue belt shortly after beginning his training with the 10th Planet San Diego team and had a fast track to purple belt promotion later that year. He began teaching beginner classes as the school's growth exploded and eventually moved into a bigger teaching role by 2016. Gabe was promoted to brown belt at the end of 2017 and to black belt at the end of 2019, becoming Richie's first and only home-grown black belt. Gabe moved from San Diego to join the 10th Planet Austin team at the beginning of 2020 and is now the Head Coach and General Manager of 10th Planet Austin.
Favorite quote: "Jiu jitsu and martial arts do not build character, they reveal it. We are all born with unmeasurable courage and determination, but it is as we go through the trials of rigorous training that we rediscover those gifts." – Ricardo Almeida
Kyle Boehm
Kyle Boehm began his training at 10th Planet Phoenix and later relocated to 10th Planet Oceanside, to train under the tutelage of Geo Martinez. He is a Black Belt under Eddie Bravo and John Botello. Kyle's background as a pro rock climber translated well into grappling and he compiled wins over Lucas Barbosa, Kaynan Duarte and a tag team win, with partner Vinny Maghalaes, over Craig Jones and Nicky Rodriguez. Kyle holds submission wins over 2-time Nogi World Champion Dante Leon, ADCC heavyweight silver medalist Joao Gabriel Rocha, and ADCC vets Valdir Araujo and Tex Johnson twice. Kyle was recently ranked #4 in the world.
10TH PLANET ROUND ROCK
3810 GATTIS SCHOOL ROAD #109
ROUND ROCK, TX 78664
Info@10PATX.com
10pRoundRock.com
737-802-4542
Gym Phone: (512) 375-9439