10th Planet Maribor, Slovenia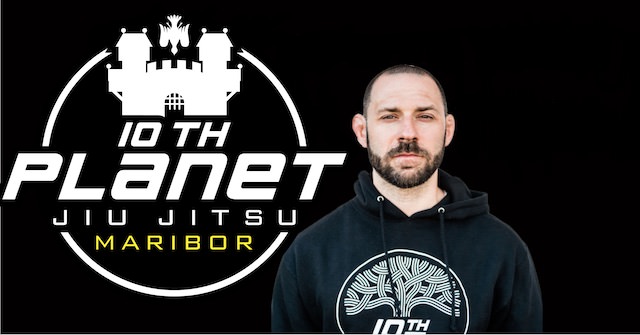 10th Planet Maribor offers world-class no-gi jiu jitsu training and instruction for students of all levels in Maribor, greater Štajerska region, and Slovenia. It is our goal to teach our students in a safe and fun environment. Please contact us to start your journey today.
Instructor:
Gregor Štrakl is the head instructor and owner of 10th Planet Jiu Jitsu Maribor. Štrakl received his black belt from Eddie Bravo's first black belt Denny Prokopos.
A native of Slovenia, Gregor encountered martial arts at an early age of six. He trained in various traditional styles, including Judo and Japanese jiu jitsu, and kickboxing until College. Upon graduating from University in the States, Strakl continued his martial arts journey for 17 years in San Francisco Bay Area and Utah as a student and international competitor in Brazilian jiu jitsu, grappling and MMA, and then as a coach instructing at 10P San Mateo and 10P Oakland.
To round out his grappling and coaching skills, he studied grappling and wrestling at the University of Grappling under Marc Brewer in Utah for 3 years and relocated to Ukraine for a year to further his wrestling and Olympic weightlifting. In recent years, he has been striving to help others on a similar path, with a systematic and comprehensive approach around the world, and now also in Slovenia.
Accomplishments:
2017 UWW World's Bronze Medalist (M1) & 5th at Adult
2017 UWW World's Team USA Member
Multiple IBJJF, SJJIF & Gracie no-gi World's Champion and Medalist (M1, blue to brown)
GrapleFest 4 Main Card and EBI 11 Trials Competitor
Part of camp and corner of Craig Jones against Jake Shields at Polaris 6
2011 IKF, Battle of the Bay, Kick-boxing Champion – 2005 U.S. Karate Games Silver Medalist
10+ years of individual, group and international instruction
Location:
10th Planet Maribor Jiu Jitsu
Šentiljska cesta 11
Maribor, 2000
Slovenia, E.U.
Phone: 040 511 571
Web- http://www.10thplanetmaribor.com
Email- info@10thplanetmaribor.com
Facebook- https://www.facebook.com/10thPlanetMaribor/
Instagram- https://www.instagram.com/10thplanetmaribor/