10th Planet Phoenix, AZ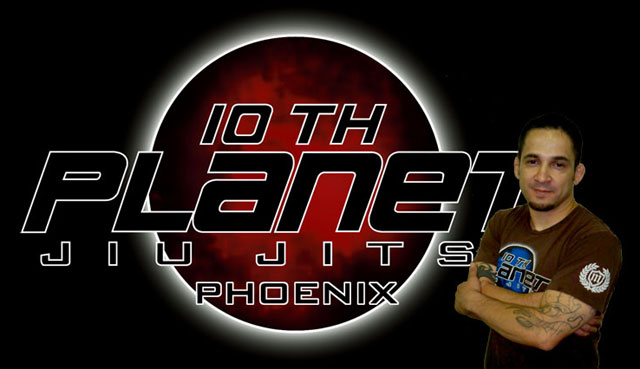 10th Planet Phoenix
Address
1239 E. McKellips Rd #116
Mesa, AZ 85103
10thPlanetPhx.com
Phone: 480-553-0009
Instructor's Bio – John Botello
John Botello is the Chief Instructor of 10th Planet Jiu-Jitsu Phoenix. He was born and raised in Harlingen, Tx. John started training Jiu-Jitsu while in the U.S. Navy under Relson Gracie in 2001 while in Pearl Harbor, Hi. After training with Relson for a year, John then moved to San Diego, Ca. John then started transiting from San Diego to Los Angeles, Ca. to train with Rickson Gracie. John also trained with Rickson Gracie black belt Fabio Santos, from whom John received his blue belt. John was told about Eddie Bravo by a friend of his and decided to try out his class while in Los Angeles. After one class John was hooked, and decided to give up training in the the Gi all together. John then started training at 10th Planet Hollywood.
After leaving the Navy in 2006 while driving home through Arizona and back to Texas, Johns' sister convinced him to stay in Arizona. He started training at Sitan Gym in Chandler Arizona under black belt Edward Rene Sanchez, whom John received his purple belt from in 2007.
John has been certified to teach the 10th Planet Jiu-Jitsu system since Jan 26th 2007. His school is Eddies' first 10th Planet affiliate school. John now holds the rank of black belt under Eddie Bravo in the 10th Planet system.
If you have never done Jiu-Jitsu before, John will show you step by step what to do in each position. He is a very patient, knowledgeable instructor. John keeps the training environment friendly, competitive, yet ego free.
John still competes regularly because he loves the thrill and preparation involved in competition, and he truly believes that the best is yet to be seen not only from 10th Planet Phoenix, but the 10th Planet Jiu-Jitsu family as a whole.
10th Planet Jiu-Jitsu Phoenix is located at the Kaizen Martial Arts Academy.
If you would like to come in for a free class please call (480) 553-0009.